Martyrs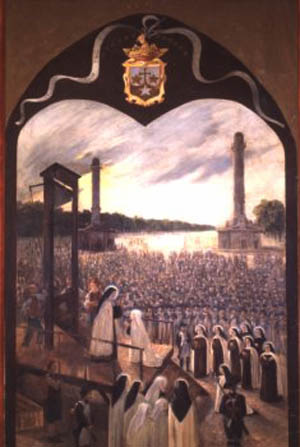 I missed posting yesterday and yesterday was a day for remembering martyrs. When July 14 rolled around Hilary reminded us
here
and
here
of the brutality of the French revolutionists. Three days later on July 17 the Church commemorates the
martyrdom of the Carmelites of Compiegne
at the hands of the same people.
Here is a post on these martyrs from four years ago
at The Inn.
On the same day 124 years later (and 4 days after the final apparition of Our Lady at Fatima) the communist spiritual descendants of the French thugs
savagely murdered
the Russian Imperial family.
The Russian Orthodox Church Outside Russia canonized Nicholas ("the Tsar Martyr") and the Imperial Family perhaps 20 years ago and the Russian Orthodox Church followed suit a few years later.
This page, published by the ROC
, gives an extensive hagiography of the family in that wonderfully florid Byzantine style.