Syttende Mai!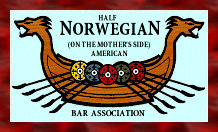 Here in the lower, left-hand corner of the United States of America where we value diversity, diversity is our strength, and so on apparently into infinity, the weary toilers in the dark, satanic legal mills can pursue their right to peaceably assemble in one or more of the following:
Asian Pacific American Bar Assn. of Los Angeles County
Black Women Lawyers of Los Angeles
Italian American Lawyers Association
Japanese American Bar Association of Greater Los Angeles
John M. Langston Bar Association [for African-American lawyers]
Korean American Bar Association of Southern California
Lesbian and Gay Lawyers of Los Angeles Association
Mexican American Bar Association
South Asian Bar Association of Southern California
Southern California Chinese Lawyers As sociation
Women Lawyers Association of Los Angeles
Orange County Japanese American Lawyers' Assn.
Pan Asian Lawyers of San Diego
The Irish-American Bar Association
At one time there was also a Celtic Bar Association and a Scottish-American Bar Association but they seem to have vanished without a trace.
But my favourite is the one whose logo is shown above:
The Half-Norwegian (on the mother's side)-American Bar Association.
They get together every 17th of May - Syttende Mai. The 17th of May is the anniversary of the adoption of Norway's constitutions. Sometimes called
"Constitution Day," "National Day" or "Norwegian Independence Day," May 17 is a day of revelry and reflection for Norwegians worldwide, just as the Fourth of July is here.
And the association does seriously honour Norwegian institutions sponsoring an annual banquet. And they also have some gentle fun at their own expense with perhaps a slight nudge at our oh-so-correct local ethnic attitudes.
You might be able to join. It's not as ethnically restrictive as name would lead you to believe:
Full membership is open to all lawyers who are licensed to practice law in any jurisdiction and to all judicial officers. Being half-Norwegian on the mother's side is not a requirement. Even Swedes are accepted.

There is a one-time non-refundable membership fee of $35. A certificate evidencing life membership will be sent by mail. Members who are disbarred, convicted of a felony, or proclaim a preference for Scottish smoked salmon forfeit membership.

Persons who are not lawyers or judges — such as law students, paralegals, lawyers' wives, judges' mistresses, or deposed prime ministers of obscure nations — may join as lifetime associate members. (If they are subsequently admitted to practice, they may "upgrade" to full membership by paying the then-prevailing fee, minus what they already paid.)